A Little About Me....
I am a 25, Married. I live in New Orleans, Louisiana. I have lived here my entire life. I have two Shih-Tzu puppies. One is a male and one is a female-Gizmo and Shelby(Gee, I wonder what she was named after?). I am a Physical Therapist Assistant at a local hospital that keeps me working full-time. I really like music from the band PANTERA. I play drums, and own a 5 piece Yamaha Stage Custom in Champagne. It really sounds great, especially with the Yamaha double bass pedal kicking away. I occasionally play with some of my ex-bandmates at local bars for fun. I quit because I got tired of luging those things around. We typically play top 40 hard rock tunes, and occasionally can be heard ripping out RAGE AGAINST THE MACHINE, ALICE IN CHAINS, or METALLICA. This page will be updated in the near future. Last update: 5/19/00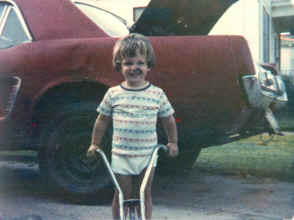 Here is me at 3 years old at my Aunt and Uncles house. Yep thats grease on my face and a 1964 1/2 Mustang in the background. It proves it all starts early!